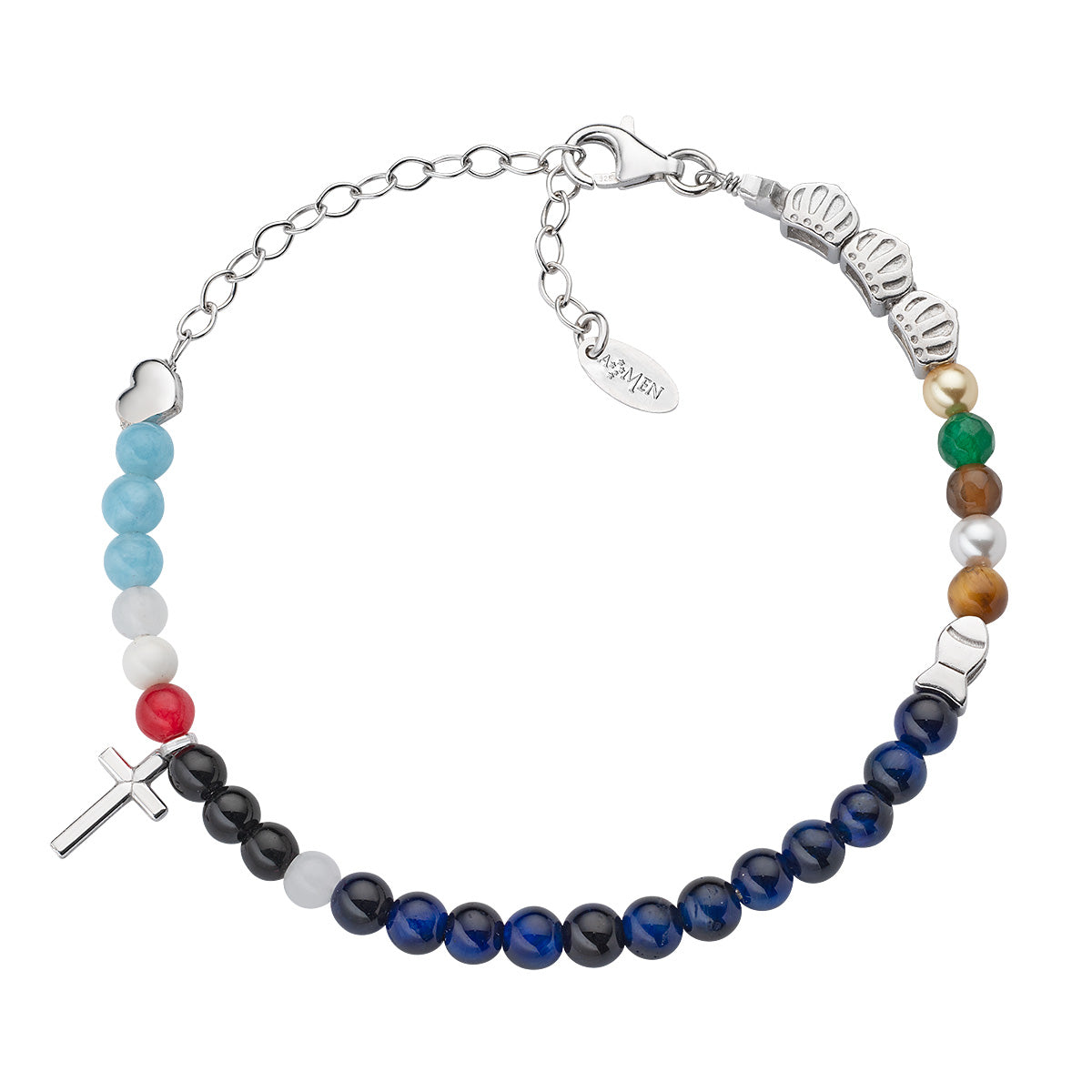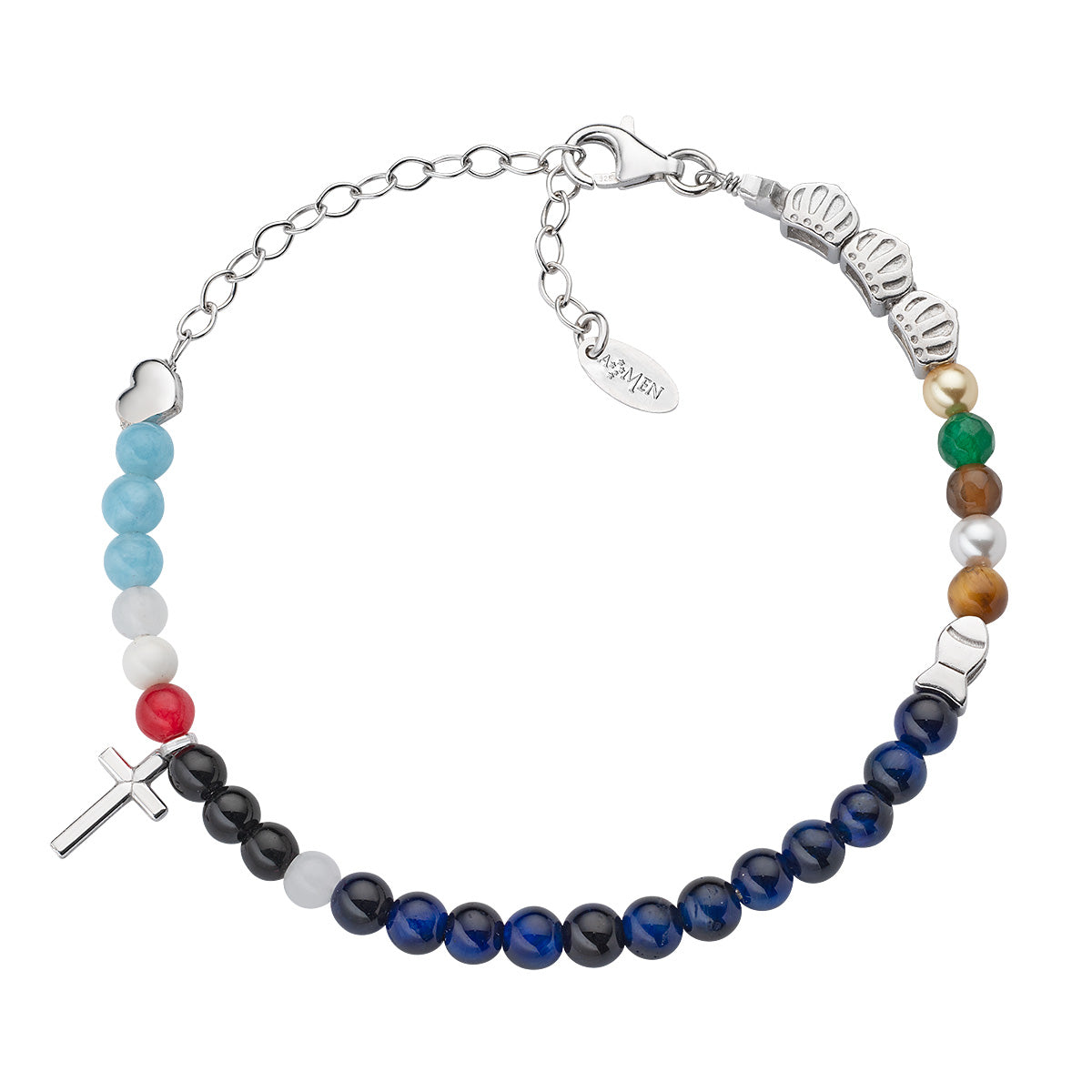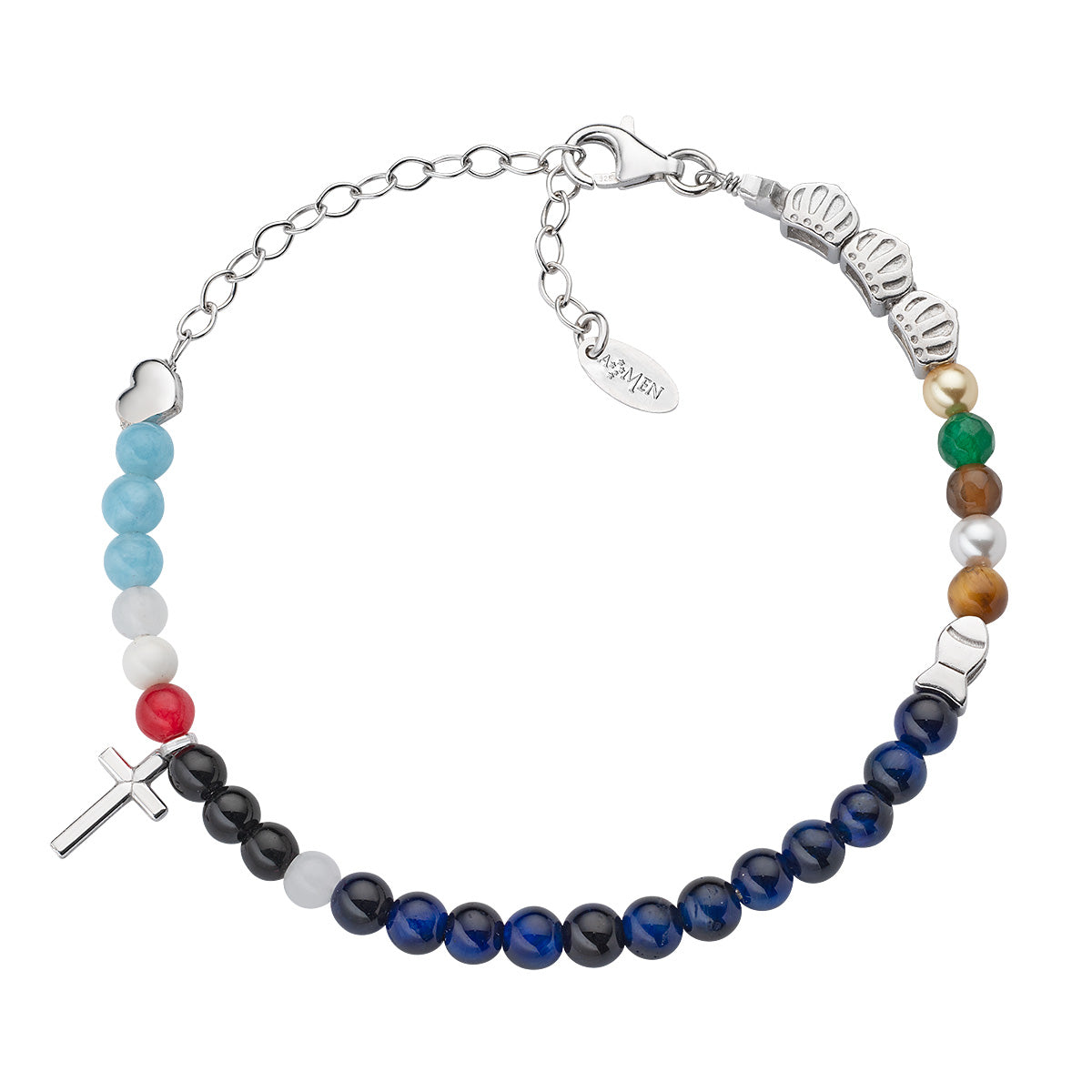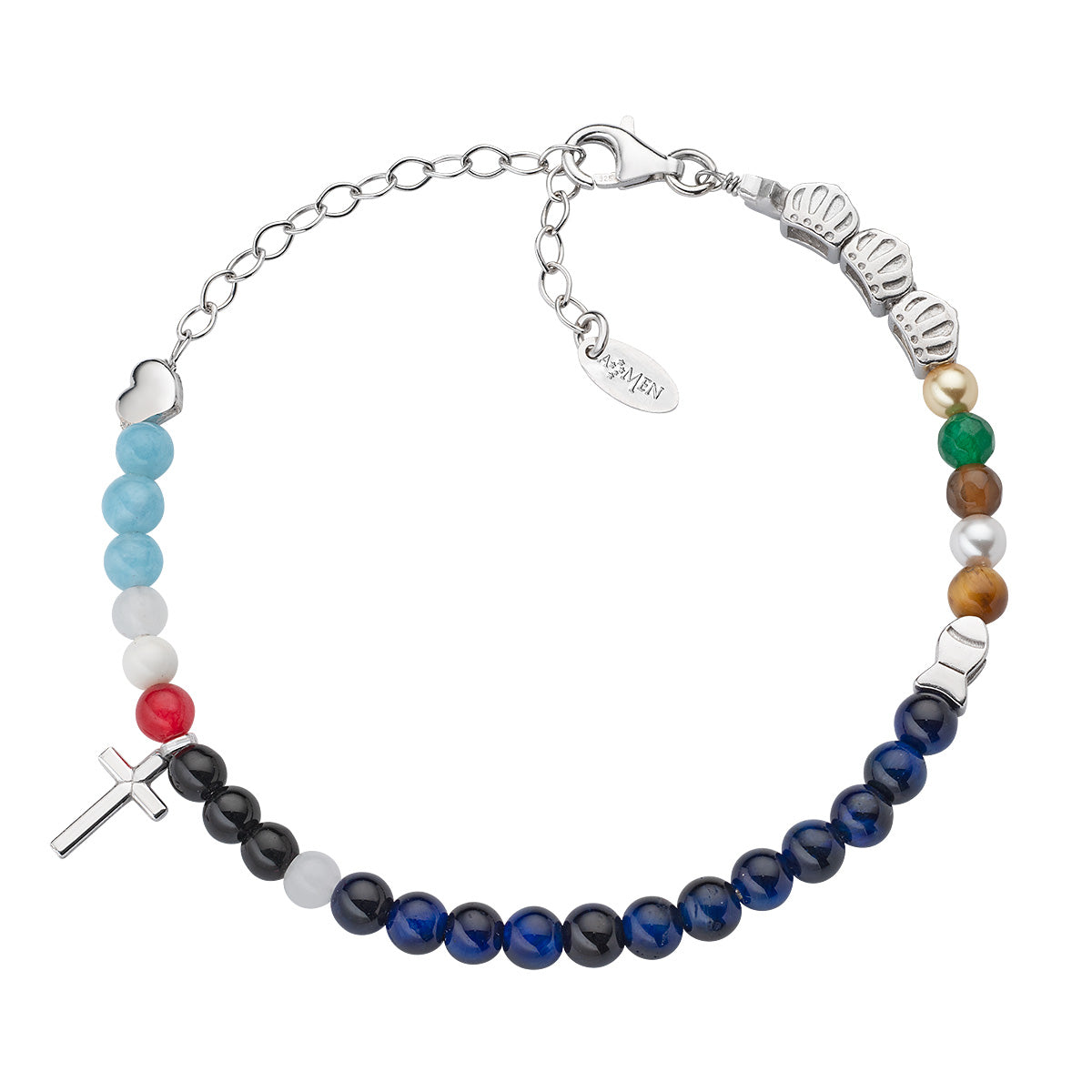 Vita Christi et Marie: BRVIGEPD4
LIFE OF JESUS This bracelet summarizes the life of Jesus, assigning a moment of it to each bead. One night, a bright star (star) appeared, guiding the three wise men (three crowns beads), bearing gifts of gold, frankincense and myrrh (three coloured crystal beads) to the cave where a child lay (pearl bead). As he grew, he was first a carpenter (wooden bead) and then a fisher of souls (fish bead), with twelve apostles (12 light blue beads) who helped him preach the word of God (transparent crystal bead). On a day of hatred, envy and betrayal (three black beads), he died and was crucified (cross charm), shedding His blood (red bead) and his tears (white bead) to purify and save us (transparent crystal bead). Now he sits in heaven, next to the Father and the Holy Spirit (three blue beads). He did all this because of his great love (heart bead) for us. 
LIFE OF MARY This bracelet summarizes the life of Mary, assigning a moment of it to each bead. An angel appeared to Joachim and Anna (brown bead and pink pearl bead), an elderly couple, to announce the birth of a child (golden bead). They called their daughter Mary, which means "beloved by God" (pink bead). At the age of 14, Mary was given in marriage to Joseph, a carpenter from Nazareth (wooden bead). Again, an Angel (angel pendant) announced that she would give birth to the Son of God, Jesus (white pearl bead). They fled to Egypt (grey hematite bead) to escape Herod's evil order. We find Mary at the wedding of Cana, where Jesus performed his first miracle on behalf of the bride and groom, turning water into wine (white and red crystal beads). Little is known about Mary, but what is certain is that she led a poor, laborious, loving and devout life (four coloured crystal beads). On a day of hatred, envy and betrayal (three black beads), she watched as her son was crucified on the cross (cross pendant). After Jesus' Ascension, Mary gathered in prayer with the disciples (twelve light blue beads) as they awaited the coming of the Holy Spirit. Like Jesus, she too rose and was assumed into heaven (medallion). Mary has left us strong and clear messages, as significant and important as the places she has appeared: Lourdes, Fatima, Medjugorje (three medallions).

AMEN comes from the desire to give words of faith in order to be close to their loved ones because they feel protected, loved, never alone.
Sterling Silver bracelet with Mixed Natural Stones and Pearls
Rhodium Plating

Length Size: 16+5cm

Product Code: BRVIGEPD4